Watching a film in versión original is an enjoyable way to improve your ear for the English language. There was a time when the quest to attain a VO film was an exasperating and fruitless endeavor. Lucky for us we are in the midst of the technological age: An age where Google has the answer to all of life's most profound questions like How to make my cat love me? Or Why do men have nipples? An age where in the very near future one may print a printer via 3D printing. Why would one want to is another matter entirely. Most importantly we are in an age where VO films can be watched at the click of a button. So when you're considering what film you ought to watch next, I strongly advise you to watch it in VO whenever it is possible.
Personally speaking I am partial to attending an odd screening at an actual cinema. The atmosphere is what compels me; The entrancing scent of buttered popcorn; The way the soles of my shoes leave the sticky, stained carpet with reluctance at each step. The excitement in the queue; The sheer size of the screen and the intensity of the sound. You can do your best to recreate the real cinema experience in your own home, and you may have some success, but you can't compare that to the real thing.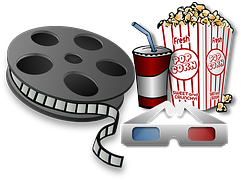 Madrid is home to a number of cinemas where you are able to enjoy a screening of the latest films in VO. There are also cinemas that regularly show the classics in VO. Here are just a few that I would recommend you visit.
Cine Ideal: This cinema is in the city centre. It looks onto Plaza Jacinto Benavente. It regularly shows films in VO and has very competitive rates. Also it's worth mentioning that, on particular days of the week, they offer great discounts.
Circulo De Bellas Artes: This is more than a cinema. It is home to many interesting exhibitions and also has an excellent roof top terrace. You are more likely to find classic films here, which is only  positive as these films are tried and tested. This month you have the opportunity to watch several films directed by the great Billy Wilder, in VO of course. This cinema is also in the heart of the city, Calle Alcalá number 42.
Filomteca del Cine Doré: This cinema is another option when you are looking for a classic. It is also known to show the less known films, ones that would not be categorized as Hollywood Blockbusters. It's in a great area with many cafes at hand. You will encounter this beautiful building at the following address, Santa Isabel number 3. If you find the time to go here I'm sure you will enjoy it.